MICE Club LIVE
Future Trends: Far-reaching changes in the world of products, distribution, the way we work and their impact on the event sector
At MICE Club LIVE 2017 we looked one step beyond industry, research and the start-up scene and use workshops to examine trends in the event sector and identify challenges for our own industry.
Program
Monday, 19.06.2017

10:00 – 11:00
Registration and welcome coffee
11:00 – 13:00
Planner & Supplier introduction round

| Welcome to the MICE Club Pop-Up-Arena


Future trends as a challenge and an opportunity for the meetings industry
13:00 – 14:30
Networking lunch
14:30 – 16:00
How the world is changing: transformation and technology development and its influence on thought and business models

| Keynote

Recommendations for exponential working and organisational models of the future
Stefan Liske
Innovation developer – Managing Partner, PCH Innovations

16:00 – 16:30
Coffee break
16:30 – 17:30
Trend Lab

| Introductory presentations und start-up sessions

VR & mixed realities - The future of spatial presence and immersive media
Arne Ludwig
Chief Sales Officer, headtrip / headtrip.rocks

Business 4.0 - How technology changes the way we work
Amin Guellil
CEO ucm.agency

From A to B - Our future mobility 

David Baus & Manuel Wesch
CEO/COO Shäre GmbH

NO_THING - Lichtbasierte Interaktion macht Räume smart

Ingo Wörner
Leiter Innovationlabor von Milla & Partner

17:30 – 18:30
Between fear and trust - What if this is too much of a trend for me?

| Interactive plenary session

A playful analysis of findings from the micelab:bodensee
Tina Gadow
Facilitator and Founder of "der kongress tanzt"

18:30 – 19:45
Break and time to freshen up
19:45
Meeting point in the hotel lobby (for overnight guests)
20:00 – 23:30
Evening event at the Käfer Feinkostladen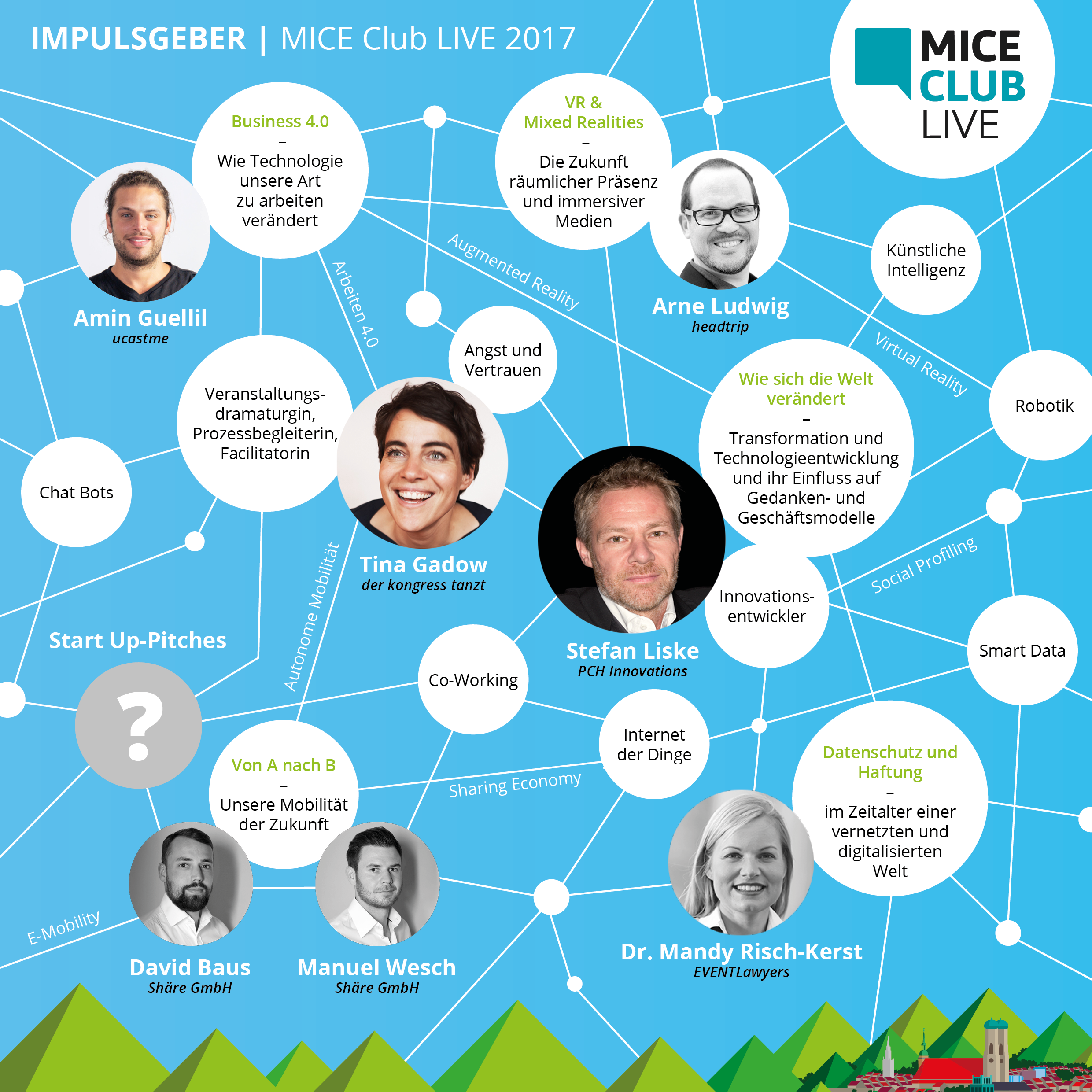 Tuesday, 20.06.2017

09:30 – 10:30
Events of the future: Mega-, macro- and microtrends and their influence on live marketing

| Introductory note and interactive play with the participants





Christiane Varga
Zukunftsinstitut

10:30 – 11:00
Coffee break
11:00 – 13:00
Trend Café – Part 1

| Small group workshops




We establish the link from the previous day's many impulses to the MICE and event sector:
How do future trends effect the event sector?

In rotating workshop settings, we examine trends in products, services and developments in the event sector.

13:00 – 14:00
Networking lunch
14:00 – 14:45
Event 4.0 - New data protection & liability criteria in digital event management

| Case study

Dr. Mandy Risch-Kerst
EVENTLawyers

14:45 – 15:45
Trend Café –Part 2

| Small group workshops




We establish the link from the previous day's many impulses to the MICE and event sector:
What impact do future trends have on the event sector?

Together we are developing future-oriented products and services for the event sector by incorporating local start-ups, trends and innovations from other branches of industry and disciplines and so creating new ideas via "cross-overs".

15:45 – 16:30
Closing session

| Innovation pitch



16:30
Official end of the event
---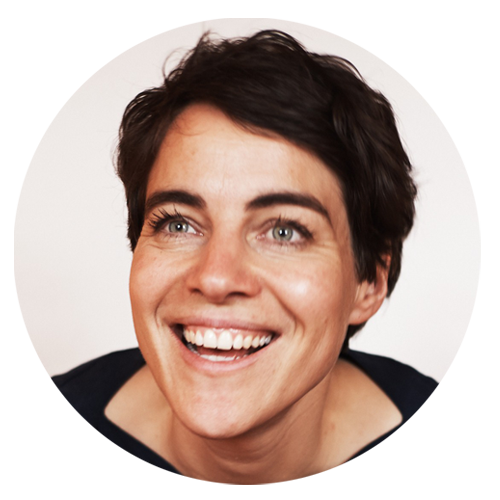 Facilitator: Tina Gadow
Good communication lies at the core of Tina Gadow's work. Her passion for theatre and working together internationally has shaped her studies of theatre science / cultural communication and continues to influence her work to this day: as a presenter of workshops and conferences, facilitation of long-standing, international and participatory projects, organising events and as a mediator. She gained her first professional experience from 2002-2007 in the Berlin offices of the Goethe-Institut and then the GIZ (German Association for International Cooperation). Since 2008, she has been working independently for public and private organizations in Germany, Europe and the Maghreb. In 2010 she founded the network for good events "der kongress tanzt" and has curated the micelab:bodensee - an EU project which promotes the contemporary design of dynamic events through interdisciplinary research and further education of the MICE industry.
---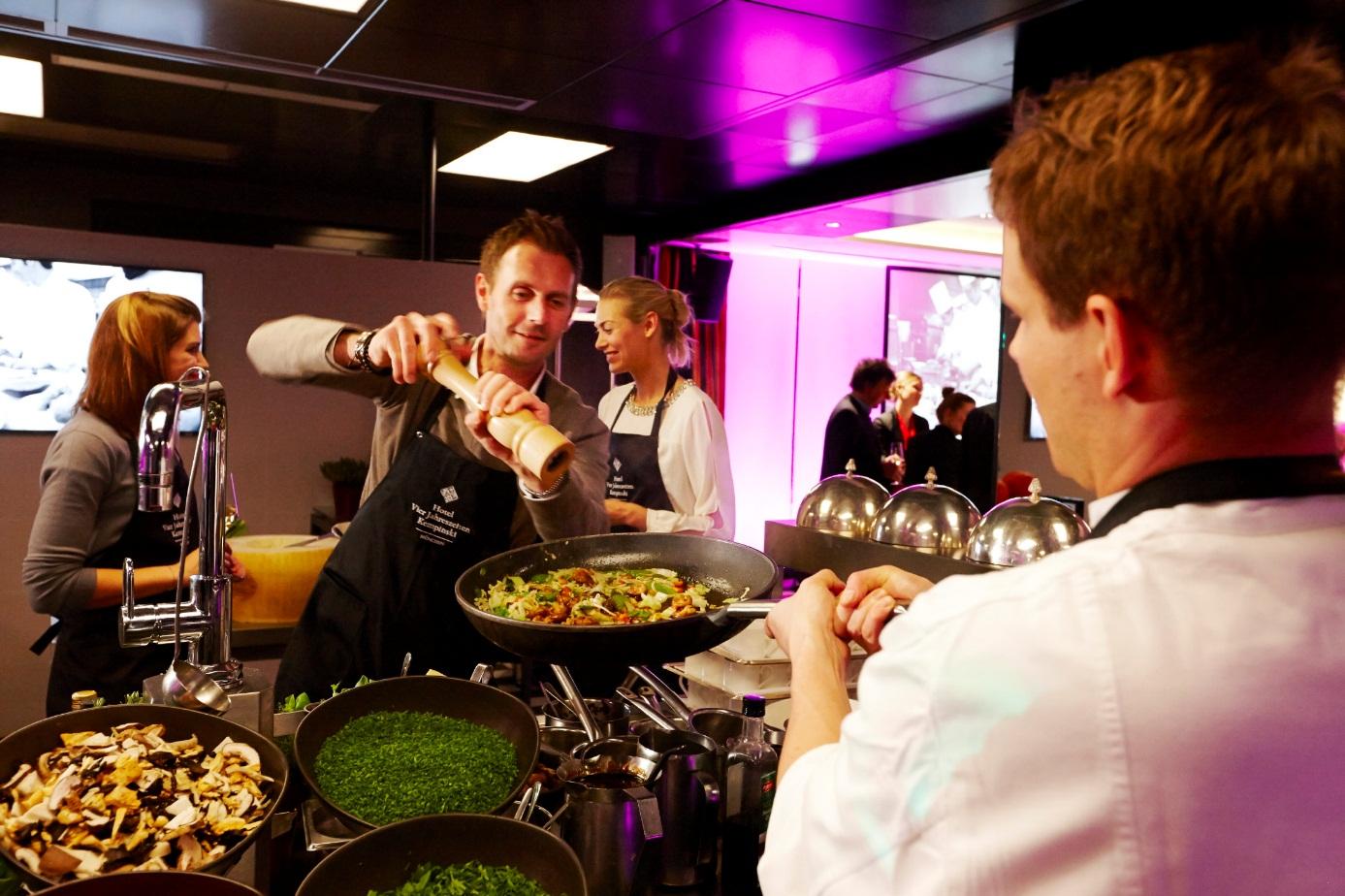 EVENING EVENT | SUNDAY, 18. JUNI 2017
The Hotel Vier Jahreszeiten Kempinski Munich invites all participants of the pre-tour and the participants of the MICE Club LIVE who have arrived on Sunday to come to a relaxed informal kitchen party from 19:00.

For all participants of the pre-tour and participants who arrive on Sunday!
PRE-TOUR THROUGH MUNICH WITH MICE.BAYERN
Come on an exciting discovery tour through the diverse and surprising destination Munich!
mice.bayern and the MICE Club invite you to a venue tour through the host destination on the weekend before the MICE Club LIVE. All meeting and event planners, who are also part of the MICE Club LIVE, are eligible to participate.
The free pre-tour includes the following services:
Participation in the pre-tour (start: 17 June 2017, 14:00)
One night in one of our partner hotels (including breakfast)
Meals during the pre-tour
Transfers during the pre-tour
Please note: The places for the pre-tour are limited - they are awarded according to the principle "first come, first served". Participation in the pre-tour is only possible with the participation in the MICE Club LIVE.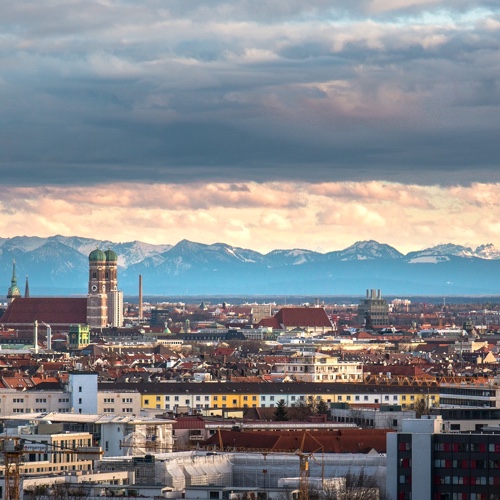 Powered by